This is a "quick-glance" map that we prepared a years ago, primarily for our corporate Tenants, to help our clients better understand the different locations so they can make better informed choices, according to their needs.
Sometimes, it is necessary to "show and offer information" as abundantly as possible because until the Tenant is offered such information as a trigger, it may not have been set as a criteria for consideration or he may not have communicated such a requirement to his property agent.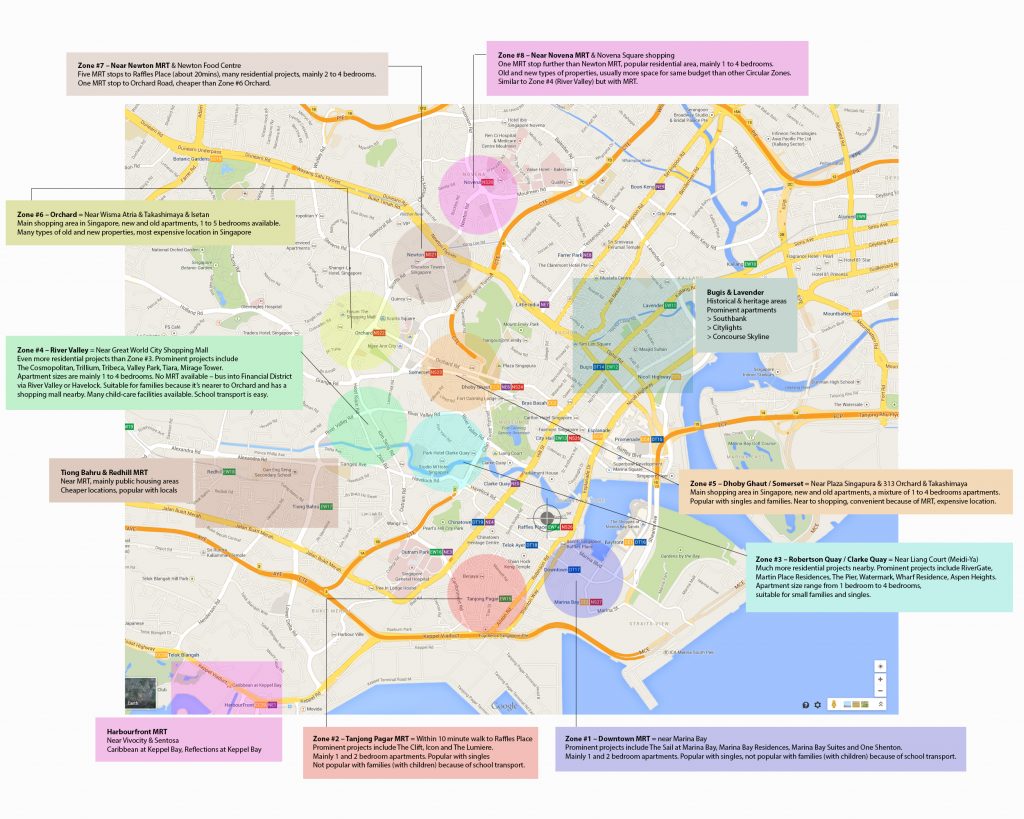 A quick breakdown of the Zone Map
Downtown MRT (near the Marina Bay area) – with projects such as The Sail, Marina Bay Residences, Marina One. Very popular with single/couple due to location (being near office), and facilities.
Tanjong Pagar MRT – projects include Altez, The Clift, Lumiere, Icon – similar to Marina Bay properties but generally not as premium.
Robertson Quay – "Family size units" apartments near to CBD area, consisting of property sizes ranging from 1 to 5 bedrooms. With cafes, shopping, and other amenities for family.
River Valley (center) – somewhat of a midpoint along River Valley Road (with Great World Shopping Mall as prominent marker). A large mix of old and new condominium projects suitable for everyone. Very well established and mature location, highly accessible and convenient, one of the most popular choices for locals and expatriates.
We firmly believe in offering our clients (Tenants, Buyers, Sellers) the necessary tools and information, helping with the evaluation according to their needs (when asked), instead of being "pushy" and doing "hard-sell".
If you or your company is looking for assistance with housing in Singapore, please do not hesitate to reach out to us, or contact Mr Reiss at (65)91001090 for no-obligation discussion.