We are almost 8 months into 2018.
The property market in Singapore has seen some major changes and updates recently. The residential properties are now subjected to higher Additional Buyer Stamp Duty (ABSD) and stricter Loan To Value (LTV) ratio.
Updated ABSD rates in Table below.
With at least 5% increase in purchase costs for almost all buyers (except Singapore Citizens and Singapore Permanent Residents buying their first property), we feel this measure will cool the recent "market frenzy" (see table below – prices rose sharply for last 4 months).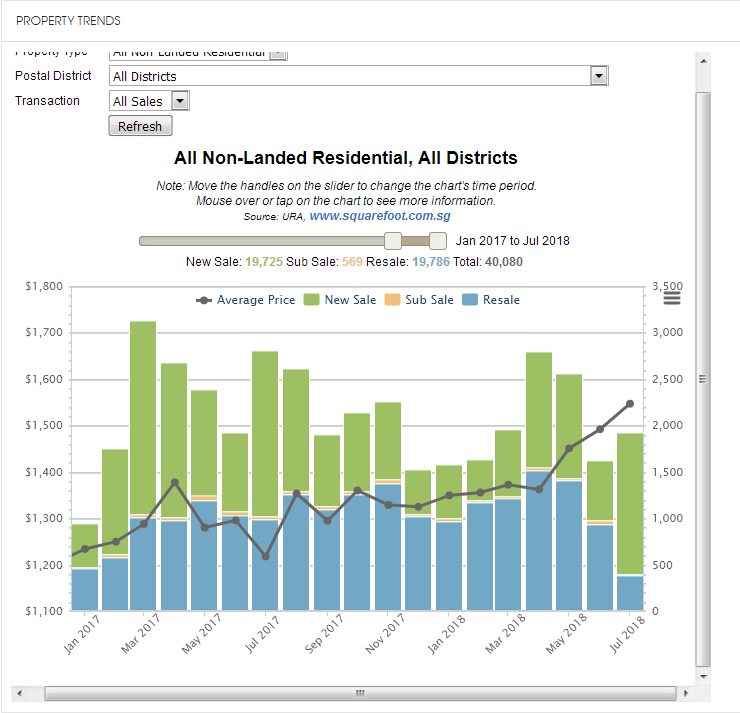 How does all these affect you as a home buyer?
If you are purchasing your first residential property in Singapore, then you are most likely able to benefit. The competition from other potential buyers (those who are buying investment properties) will decline, and you may enjoy a stronger bargaining power, to get price reduced further from serious sellers.
For those who are purchasing a residential property for investment (i.e. not the first property), then most likely you will take up a wait-and-see approach. To re-evaluate your budget and determine whether it's worthwhile to pay the higher ABSD.
In so doing, the overall residential market will see less activity (less transactions), whilst the different groups of buyers proceed with caution and also negotiate for lower prices.
Then, is it a good time to sell?
The question is always determined by "how much did you pay when you bought".
For example, using the Table shown below, for home owners who purchased properties during the 2008-2009 period (10 years ago), they should be seeing about 100% increase in their property value (which is actually pretty good!). So, in another 5 to 10 years time, will there be a 150% to 200% increase from 2008-2009 value? Anybody's guess!
For the majority of home owners who purchased during 2009-2012 (6 to 9 years ago), this is probably a "good enough" time to look at disposing your older property for an upgrade or just to cash out and re-invest into a newer property for investment (this disposal & purchase process can take 6 months to 1 year).
What we have observed for many properties that Tenants are attracted to, is that the price, size, location and age (maintenance) are key determining factors for Tenants.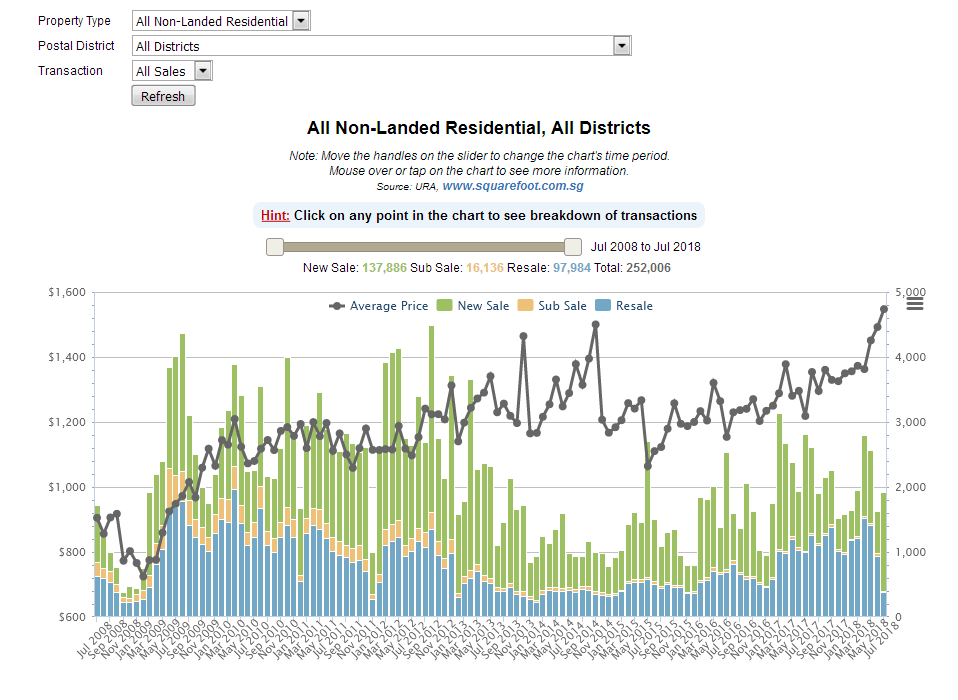 Conclusion
No matter how the market and macro economy factors react, the serious home buyers will definitely still need to make a purchase (or rent for the time being).
Sellers who have purchased around 2013-2014 and are not enjoying good rental returns for their investment properties may want to consider "cut-loss" for now, and re-enter the market once the market situation offers a better picture (and hopefully make a better choice when selecting property for investment).
If we refer to the last table above, it is clear that potential home buyers will be entering the property market at a "rather high price", but the future is of course uncertain. The prices could rise even further (with good economic fundamentals) or crash (soon).