This article serves to help Tenants be better informed about the Tenancy process in Singapore, and hopefully you don't encounter such problems with your Security Deposit.
From our past experience, many unhappiness actually arises from "miscommunication" and differing cultural norms and practices in different cities.
There are cities where the Landlord will take charge of all apartment matters (including all repairs). These Landlords are often the building owners and have service personnel teams hired for such matters.
There is even a "centralised security deposit system" such as the RTA Web Services in Queensland, Australia. Whereas in Singapore, the security deposit is always held by the Landlord, and majority of properties available for rent are by private individuals.

The return of Security Deposit is a recurring problem because some Agents and Landlords in Singapore still do not have sufficient experience in handling and managing properties to properly understand and execute the handing-taking over process.
This results in delays for return of Deposit, and arguments also arise due to mistaking "natural wear and tear" as "damages caused by the Tenants".
The "cheapest" manner for Tenants to commence legal actions to claim back their Security Deposit is via the Small Claims Tribunal in Singapore.
Tenants exiting a property are often at a weaker position when disputes arise, as time may be very rushed (e.g. leaving Singapore for permanent transfer, and closing all bank accounts), or unfamiliar with the prices for repairs or reinstatement costs, or not being able to commence legal proceedings against their (ex) Landlord.
Next, due to the fact that Singapore's commission structure is still following the old method whereby Tenants below a certain rent-lease combo will need to pay their own property agent commission, this creates a pool of "direct tenants" who source for properties on their own, without a Tenant Agent's help, for the sake of saving money on commissions.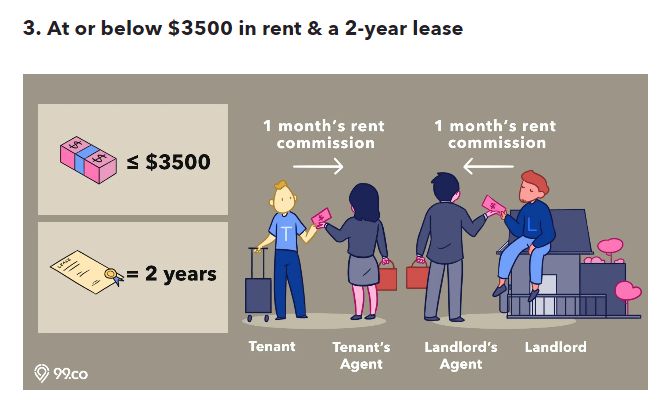 However, such Tenants are also forgoing the services of a Tenant's Agent when moving into a new property. For instance, coordinating with movers, applying for utilities, internet and cableTV, liaising with the condo management and landlord's representative for smooth move-in by the Tenant and most importantly, a proper take-over and check-through of the whole property, taking notes of the inventory within the property, together with the conditions during move-in.
These are all on top of the services already rendered such as (1) Property Search & Viewings (2) Negotiations & Identity Checks (3) Contract Preparation & Stamping.
For Corporate Tenants that we have been assisting, the budgets are usually higher than S$3500/mth and their scenario fall into the category below where the Landlord's Agents will "co-broke and split-half" with the Tenant's Agents, so these Tenants actually enjoy Free Service from their Corporate Housing Agents.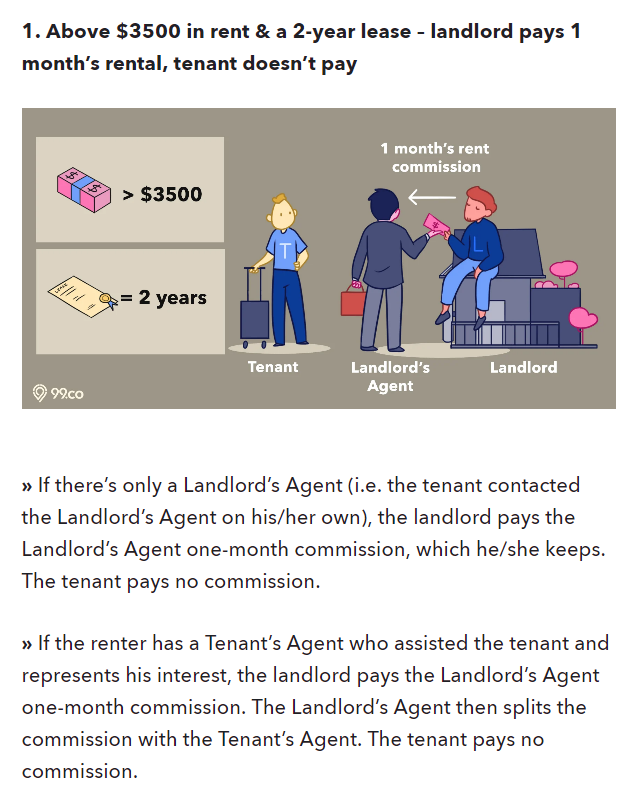 Now, how do you determine the party you are paying deposit and rent to, to be the correct and real "Landlord"? There have been cases of "illegal sub-letting" and the unfortunate Tenants were caught in very bad situations when the fake landlord disappeared and real Landlord knocked on the door to ask for payment. We have assisted clients from Overseas to investigate and chase away the unscrupulous "fake landlords".
Finally, a good and responsible Tenant's Agent will follow up with Tenants about any repairs and refer maintenance services (when requested upon), for example when the repairs are for "expendables" and fall below the typical S$150.00 mark.
This is especially important when nearing the end of the contract, so as to help prepare the property return to the Landlord as smoothly as possible.
This is our best way to prevent any lengthy arguments or delays in return of the Security Deposit, and how we can offer peace of mind for all our outgoing Tenant friends whom we have had the pleasure of serving over the many years when they were in Singapore.
For Tenants who wish to DIY and search for rental properties to save on commission fees, there's a checklist here for Tenants. Hopefully, this will help you get all the necessary checks and information done properly, and prevent issues regarding the Property Leasing in the future.