Recently, we started exploring the geeky "smart home" technology.
This is no longer anything "new or fresh" but it does appear the technology is approaching a point where "early majority" users are starting to take note and create practical use of this smart devices to help in daily lives.
In so doing, we have learned some basic terminology and systems being used, and also experimented with different devices across a few different brands.
Here are our views on the "Smart Home Automation" concept.
(1/5) What's the PURPOSE?
This can be broadly broken down into 3 categories.
In no way is it meant to be a decision flowchart (i.e. "if this then that").
Rather, it is to be evaluated, and approached together with other requirements and factors that have been identified, to achieve a better understanding of the devices, technology and systems to implement.
ACCESSIBILITY – remote use (off-location), allow easier access to use and control
AUTOMATION – routine users, implementing a pre-set sequence of actions
MONITORING – security, safety, tracking habits and routines
Some examples of how smart home systems can be useful include:
Setting up automation routine for robot vacuum to self-operate at pre-determined schedule,
Allowing persons with disability or mobility challenges to operate electrical equipment without having to physically move to activate the switch,
Easy installation of security system for entry points (gate, door, windows) – using motion sensors, heat and water sensors, cameras and allowing immediate notification through smartphone app.
(2/5) ZONE / LOCATION – Where to setup?
Public – Private space
These are entrance (main door), back door, gates and windows. These locations are public – private spaces. Typical uses are security cameras and motion sensors.
Do take note of the "wiring" requirements for both "signal" and "power". Recommended to use wireless and low-power devices in these locations. Easier to install and maintain.
Private – Out of Bounds space
These are areas inside of house, and some zones (such as bathrooms) which need extra careful planning (for power). Take note of IP Ratings when using devices near water.
A good location for using motion sensor and automated lights is the walk-in pantry or store room, where you may just be there for a short while and very often forgetting to turn off the light switch after you are done.
Staircases should also have motion sensors and lights, to assist movement in darkness, prevent accidents.
A common area such as Living or Dining Space can do well with smart lights and temperature control sensors that help to automatically keep the environment comfortable when in use, whilst also saving energy by turning off when everyone is out of the house.
(3/5) DEVICES (GADGETS) AVAILABLE
The devices that make up the Smart Home System fall within 3 main types.
Sensors – measurement of temperature, humidity, motion, vibration
Hub (Control) – voice or with display interface
Action – switch, plugs, bulbs, extension cables, smart locks, remote control, "smart appliances"
Echo Dot is an example of Smart (Control) Hub. It has speakers and microphone functions and will link up with the other Smart Devices in your home, forming routines that are personalised to your daily habits. For example, a "Good Morning" command can be programmed to turn on your bedside lamp, control the room temperature, turn on the lights for the rest of the house, open up the curtains and blinds — all of this functions, done in a single voice command.
A smart plug is an easy way to start off your Smart Home Automation. These are cheap and easy to implement, perfect for making lamps and fans turn on and off using voice or mobile app.
Setting up the devices are done on smartphone. Different brands have their own "smart app". Usually, the installation is just (1) powering-on and (2) scanning a QR code to connect, and you can start using the smart device already.
However, one key point to take note is whether these devices can be integrated with your Control Hub system. For example, as on early 2020, some of Xiaomi products are still unable to connect directly with Google Home, so there's still research and homework you need to do before buying Xiaomi smart home products when you are located outside of China and wish to connect these devices with your Google Home or Amazon Echo systems.
(4/5) TECHNOLOGY (GEEK TALK)
Zigbee vs Z-Wave vs Wifi
Rather than to write a few paragraphs of really boring tech jargon which nobody's going to read, here's a video instead.
(5/5) SUMMARY
A common issue faced by home users will be – the devices and tech is too complicated, and not being sure which is the correct brand or version to use (in case get outdated too fast), and in the end, not starting at all.
After our brief experimentation with some of the smart devices, we feel that there are some basic devices which can be useful, no matter how the technology or systems evolve in the next few years, these will still be able to serve their purpose for a few years.
The smart plugs or smart extension wire are basic devices that will always be useful as they don't cost too much more than their normal "dumb plugs" or "dumb extension wires".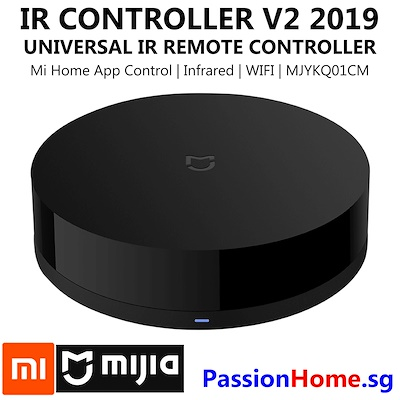 Another useful device is the Xiaomi IR Control which allows this single unit to replace other remote controls in the same room, and allows the electronics to be turned into "smart devices".
Without carrying out any empirical study to determine Cost – Benefit Analysis (yet), we feel that the realm of "smart devices" for home or even office, seem to be fast becoming feasible solutions for people who have determined their needs for such. It might be have been (1) too costly or (2) too complicated in the past. Over our recent experimentation with these devices, we found majority to be "working stable", and sufficiently helpful in daily activities.
That's not to say all the devices and technology are suitable for use already. For example, one of our use-cases was a Xiaomi Door Viewer (screenshot image below) which was supposed to offer two-way real-time video and voice connection between the device and smartphone app. But the reality is that the connection is too laggy for use, and often the notification to smartphone is 2-3 minutes (after) the bell has been pressed or movement was detected. This is very likely due to the information being delivered through the server network based in China. Check out some other buyers reviews from Lazada.